Orthodontics for Kids & Teens in Richmond Hill
At Richmond Hill Kids Dentistry and Orthodontics, we provide early orthodontic treatment with braces or Invisalign® clears aligners for children and teens. 
Request Appointment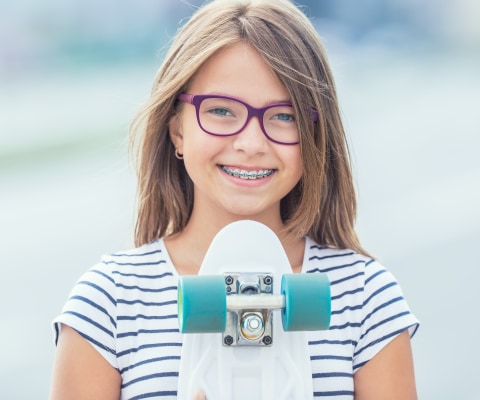 Early Intervention Orthodontics in Richmond Hill
Years ago, it was recommended that a patient wait until they had lost all of their baby teeth and most of their permanent teeth had erupted before starting braces.
Over time, orthodontics has evolved to address issues that are better treated at an earlier age. 
As children develop and grow, they may show the beginning signs of bite problems, the jaws may be disproportionate in size or shape, or there may be excessive crowding of the teeth.
Our orthodontist can address these issues early, and help pave the way for good oral health for your child into adulthood. 
Invisalign Clear Aligners
Invisalign First are clear, removable orthodontic aligners that are designed to straighten children's teeth as they grow.
Invisalign clear aligners for teens are designed to meet the specific needs of teenagers who want straighter smiles.
Braces
Braces are a safe, effective method of treating all of the issues associated with a number of tooth alignment and bite problems including crowded teeth, overbites, underbites, crossbites, and impacted teeth.
At Richmond Hill Kids Dentistry and Orthodontics, we offer a variety of types of braces that are suitable for children and teens.
New Patients Always Welcome
We're always happy to welcome new patients to our Richmond Hill dental practice, with or without a referral. 
Request Appointment
Location
Richmond Hill Kids Dentistry and Orthodontics
10 Headdon Gate #1
Richmond Hill
ON
L4C 8A2
CA
Phone Number
Hours
Monday:

09:00 am - 06:00 pm

Tuesday:

08:00 am - 06:00 pm

Wednesday:

08:00 am - 05:00 pm

Thursday:

08:00 am - 05:00 pm

Friday:

08:00 am - 02:00 pm

Saturday:

Closed

Sunday:

Closed
Navigation