At Richmond Hill Kids Dentistry and Orthodontics, the goal of orthodontic treatment with braces is the same for children, teens or adults – to straighten teeth so they look better and work better.
Straighten Your Smile with Braces in Richmond Hill
Gone are the days of heavy headgear and large brackets. Today's braces are streamlined and comfortable, making them appealing for adults and teens concerned about aesthetics.
Braces are safe, effective method of treating all of the issues associated with a number of tooth alignment and bite problems including crowded teeth, overbites, underbites, crossbites, and impacted teeth.
If you're considering straightening your teeth with braces, our orthodontist can help you decide if braces are right for you.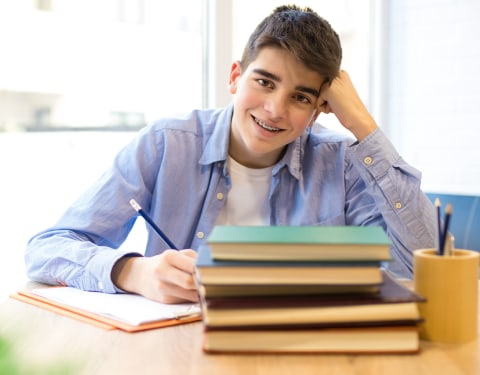 Braces in Richmond Hill: How they work
Braces can effectively treat a broad range of orthodontic cases, spanning from mild to severe. They work by putting gentle pressure on your teeth to move them into the corrected position over a period of months or years.
Treatment times vary and depend on the severity of a patient's misalignment issues as well as patient compliance. Maintaining good oral hygiene, keeping regular appointments and following your treatment plan are all important in keeping treatment time on schedule.
Types of Braces
At Richmond Hill Kids Dentistry and Orthodontics, we offer a variety of types of braces including the following:
Traditional Metal Braces

Traditional metal braces are the most common type, and more comfortable today than ever before. Made of high-grade stainless steel, they straighten your teeth using metal brackets and arch-wires.

With metal braces, you have the option of adding coloured elastics (rubber bands) for a more unique and colourful smile.

Ceramic Braces

Ceramic braces consist of clear or tooth-coloured ceramic brackets attached to the surface of your teeth with similarly coloured wires and rubber bands, making them less visible on your teeth than metal braces.

Ceramic braces are comfortable and offer brilliant aesthetics and efficient performance. The brackets are durable and resistant to staining and discolouration during treatment. They are perfect for patients of all ages.

Lingual Braces

Lingual braces are similar to metal braces, but they are located on the inside of the bite, instead of on the outside.

Lingual braces can be just as effective as traditionally placed braces, but they cannot be seen from outside of the mouth. While they can be spotted when you open your mouth, they are far less intrusive and less likely to be noticed.
New Patients Always Welcome
We're always happy to welcome new patients to our Richmond Hill dental practice, with or without a referral. 
Request Appointment
Location
Richmond Hill Kids Dentistry and Orthodontics
10 Headdon Gate #1,
Richmond Hill,
ON
L4C 8A2
CA
Phone Number
Hours
Monday:

09:00 am - 06:00 pm

Tuesday:

08:00 am - 06:00 pm

Wednesday:

08:00 am - 05:00 pm

Thursday:

08:00 am - 05:00 pm

Friday:

08:00 am - 02:00 pm

Saturday:

Closed

Sunday:

Closed
Navigation