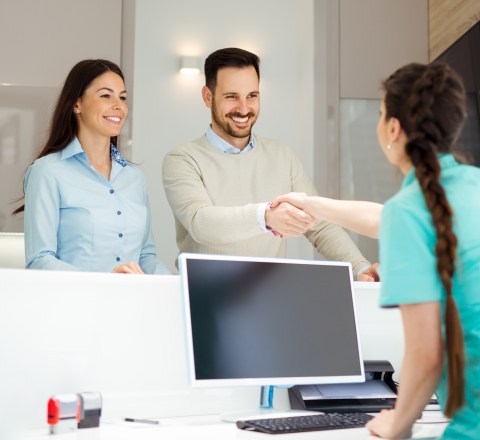 Welcome to Our Practice
At Richmond Hill Kids Dentistry and Orthodontics we are always happy to welcome new patients to our dental office, with or without a referral.
Learn more about our office policies, and what you can expect during your first pediatric or orthodontic visit with us.
Your First Visit
Whether you're a parent bringing in your child for an appointment, or an adult coming in for an orthodontic appointment, here's what to expect at your first visit.  
Arrival
We ask that you arrive about 10 minutes early to fill out our new patient forms. If you wish, and to save a bit of time, you can complete our new patient form in advance. Please bring the completed form to your first appointment.
Comprehensive Exam
Your dentist or orthodontist will begin by reviewing the patient's health history. Next, they will complete a thorough examination of the patient's gums, teeth, bite and jaw.
Treatment Plan
Based on the medical history and exam, your dentist or orthodontist will develop a comprehensive dental treatment plan for you or your child. We will also take the time to answer your questions about your child's dental health and treatment options. 
Office Policies
The following office policies are applicable to our kids dentistry service as well as our orthodontic services. 
Questions about our services?
Read our most frequently asked questions about pediatric dentistry and orthodontics.
Read FAQs
New Patients Always Welcome
We're always happy to welcome new patients to our Richmond Hill dental practice, with or without a referral. 
Request Appointment
Location
Richmond Hill Kids Dentistry and Orthodontics
10 Headdon Gate #1
Richmond Hill
ON
L4C 8A2
CA
Phone Number
Hours
Monday:

09:00 am - 06:00 pm

Tuesday:

08:00 am - 06:00 pm

Wednesday:

08:00 am - 05:00 pm

Thursday:

08:00 am - 05:00 pm

Friday:

08:00 am - 02:00 pm

Saturday:

Closed

Sunday:

Closed
Navigation