Teeth Whitening in Richmond Hill
At Richmond Hill Kids Dentistry and Orthodontics, our dentists offer both in-office and at-home teeth whitening options to help lighten the colour of your smile.
Request Appointment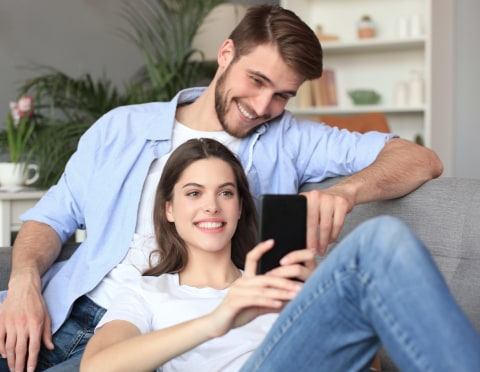 Brighten Your Smile
With age, teeth become more vulnerable to staining from food and other substances. Particles are naturally attracted to a tooth's enamel, and products like coffee, tea, berries and tobacco are notorious for staining teeth.
Today, more and more people are choosing tooth-whitening procedures to reverse the effects of aging and stains.
Teeth whitening at Richmond Hill Kids Dentistry and Orthodontics is an effective and safe method of whitening teeth.
How Teeth Whitening Works
In teeth whitening, our dentists use bleaching agents that are peroxide-based. Oxygen acts on the tooth enamel as the active ingredient breaks down and creates the whitening effect. 
The whitening agents are designed to reverse the effects of aging and staining, lightening the colour of your teeth. 
Teeth whitening will only work on your natural teeth. Ideally, any restorations should be added after your teeth have been whitened to match the new, lighter shade. 
In-Office Teeth Whitening
We can help safely and effectively whiten your smile during an appointment at our dental clinic. First, a barrier is applied around your gums to protect them, then a thin layer of gel will be applied and chemically activated on each tooth.
At-Home Teeth Whitening
We also offer take-home teeth whitening kits, so you can lighten your teeth from the comfort and convenience of your home using a custom whitening tray based on an impression of your smile. 
New Patients Always Welcome
We're always happy to welcome new patients to our Richmond Hill dental practice, with or without a referral. 
Request Appointment
Location
Richmond Hill Kids Dentistry and Orthodontics
10 Headdon Gate #1,
Richmond Hill,
ON
L4C 8A2
CA
Phone Number
Hours
Monday:

09:00 am - 06:00 pm

Tuesday:

08:00 am - 06:00 pm

Wednesday:

08:00 am - 05:00 pm

Thursday:

08:00 am - 05:00 pm

Friday:

08:00 am - 02:00 pm

Saturday:

Closed

Sunday:

Closed
Navigation