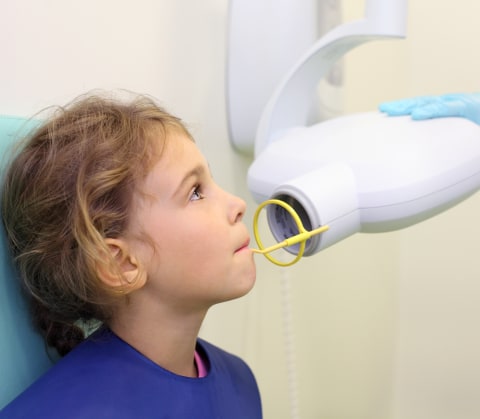 Technology for Dental Care
At Richmond Hill Kids Dentistry and Orthodontics, the technology we use helps us provide our patients with efficient dental care. 
We use a variety of technologies including dental lasers and digital and panoramic x-rays.
Request Appointment
Dental Lasers
Dental lasers are an alternative to traditional dental tools. Using laser energy, we can perform many dental procedures with little or no freezing, or without a drill. Overall, this means that patients are much more comfortable both during and after treatment.
By emitting a single wavelength of light energy on tooth, gum or soft tissue, a dental laser can repair decay, gum disease, or soft tissue disorders with precision and accuracy, less pain, and fewer medical interventions.
Digital & Panoramic X-Rays
X-rays are an important part of ongoing dental care. They allow your dentist or orthodontist to examine parts of the mouth that are not visible to the naked eye, identify developing problems, and treat them before they become serious.
Digital X-Rays

Digital x-rays use digital sensors instead of traditional photographic x-ray film. They produce highly detailed computer images of the teeth and gums, as well as other oral structures and conditions.

Panoramic X-Rays

Panoramic x-rays allow your dentist to create a single image of your entire mouth. This image is a flat representation of the teeth, upper and lower jaws, temporomandibular joints (TMJ), and the nasal and sinus structures.
New Patients Always Welcome
We're always happy to welcome new patients to our Richmond Hill dental practice, with or without a referral. 
Request Appointment
Location
Richmond Hill Kids Dentistry and Orthodontics
10 Headdon Gate #1,
Richmond Hill,
ON
L4C 8A2
CA
Phone Number
Hours
Monday:

09:00 am - 06:00 pm

Tuesday:

08:00 am - 06:00 pm

Wednesday:

08:00 am - 05:00 pm

Thursday:

08:00 am - 05:00 pm

Friday:

08:00 am - 02:00 pm

Saturday:

Closed

Sunday:

Closed
Navigation