At Richmond Hill Kids Dentistry and Orthodontics, our pediatric dentists offer dental fillings to help prevent further decay or cavities in children.
Request Appointment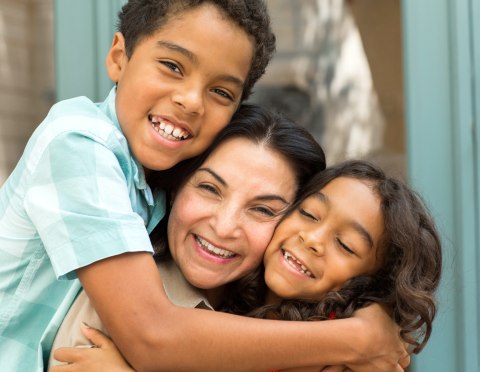 Caries Control & Fillings
Caries (or cavities) can develop due to several factors, and children tend to be at more of a risk for many of these. Fortunately, you and your child's dentist can take steps to reduce your child's chances of developing cavities. This includes bringing them in for regular dental visits, and practicing good oral care routines at home. 
Despite these preventive efforts, sometimes cavities can still develop in kids. In these cases, cavity care for children is very similar to cavity care for adults, because preserving tooth health is the most important aspect. To preserve your child's oral health, your dentist will remove cavity and place a dental filling. 
Regular brushing and flossing can help kids prevent cavities!
The Filling Process
At Richmond Hill Kids Dentistry and Orthodontics, we typically use tooth-coloured composite fillings  to repair a cavity. These fillings are durable, can withstand moderate pressure of chewing, and blend in with the natural tooth. 
When a filling is required, we will begin by placing a local anaesthetic to the area so your child won't feel any pain. Once it has taken effect, we will thoroughly remove all decay from the tooth, using precise instruments.
After the decay has been completely removed from the tooth, we will prepare the tooth by etching its surface. Next, we will bond the filling to the tooth, and polish the surface so that the texture is similar to the surface of your natural tooth.
Causes of Decay
Cavities are caused by bacteria in the mouth that consume simple sugars and convert them into acid plaque. The acid plaque builds up on the teeth, and eats away at the enamel and dentin, resulting in cavities.
Plaque can build up on the teeth due to:
Poor oral hygiene
A diet high in sugar and acidic foods
Misaligned teeth
A dental filling will help prevent bacteria from entering the crack or damaged area of the tooth, preventing further infection or decay.
New Patients Always Welcome
We're always happy to welcome new patients to our Richmond Hill dental practice, with or without a referral. 
Request Appointment
Location
Richmond Hill Kids Dentistry and Orthodontics
10 Headdon Gate #1
Richmond Hill
ON
L4C 8A2
CA
Phone Number
Hours
Monday:

09:00 am - 06:00 pm

Tuesday:

08:00 am - 06:00 pm

Wednesday:

08:00 am - 05:00 pm

Thursday:

08:00 am - 05:00 pm

Friday:

08:00 am - 02:00 pm

Saturday:

Closed

Sunday:

Closed
Navigation