Cleanings & Exams for Kids
Regular dental appointments are just as important for children as they are for adults.  At Richmond Hill Kids Dentistry and Orthodontics, our pediatric dentists are here to help keep your child's smile healthy.
Request Appointment
Regular Dental Visits
Children should visit the dentist at least every six months to help prevent problems from developing, and to catch and treat those that are already developing early.
During the cleaning, the dental hygienist will remove debris and bacteria that builds up on the teeth and along the gum line to help prevent cavities and gum disease. 
During the exam, the pediatric dentist will closely examine your child's smile and assess any changes in their oral health. The pediatric dentist is also trained to assess orthodontic problems and suggest treatment options to guide the teeth as they emerge into the mouth.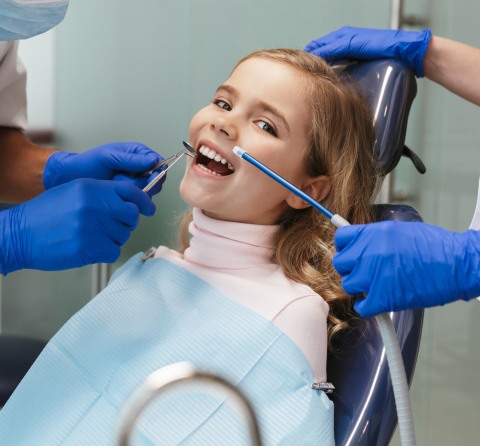 We see children for a first visit as early as age one!
Oral Hygiene Guidance
Just like adults, children should brush their teeth at least twice a day and floss once a day. 
During each appointment, the pediatric dentist or hygienist will review proper oral hygiene techniques with your child, to ensure that each tooth is getting a proper cleaning at home.
Brushing and flossing instruction will be reviewed, and they can also make suggestions for supplementary hygiene aids, provide dietary advice, and more.
Fluoride Treatment
As part of their regular visit, we offer fluoride treatments to help prevent decay and maintain good oral health. 
Following their dental cleaning, the pediatric dentist will evaluate your child's smile for decay or cavities and recommend additional fluoride treatment if necessary.
Fluoride is a natural mineral that can help to rebuild the minerals in your tooth enamel to prevent or reverse tooth decay. 
New Patients Always Welcome
We're always happy to welcome new patients to our Richmond Hill dental practice, with or without a referral. 
Request Appointment
Location
Richmond Hill Kids Dentistry and Orthodontics
10 Headdon Gate #1
Richmond Hill
ON
L4C 8A2
CA
Phone Number
Hours
Monday:

09:00 am - 06:00 pm

Tuesday:

08:00 am - 06:00 pm

Wednesday:

08:00 am - 05:00 pm

Thursday:

08:00 am - 05:00 pm

Friday:

08:00 am - 02:00 pm

Saturday:

Closed

Sunday:

Closed
Navigation