When cavities in baby teeth are very large, and cannot be adequately repaired with a dental filling, the pediatric dentists at Richmond Hill Kids Dentistry and Orthodontics may recommend a dental crown to restore your child's oral health.
Request Appointment
Repairing Baby Teeth
Our pediatric dentists may recommend a dental crown for your child if they have a weak, severely damaged or cracked tooth that cannot be repaired by a dental filling.
Crowns are caps that fit over the tooth and provide full coverage and protection for the baby tooth. 
Finding out your child has extensive tooth decay and needs crowns can be disconcerting. But having the option available to restore your child's teeth with crowns will put your mind at ease.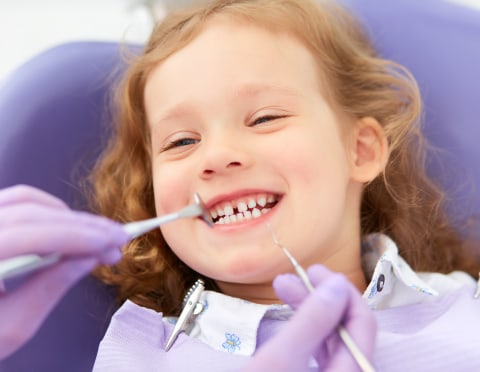 Types of Dental Crowns
Stainless steel crowns are the most common type of crown used in pediatric dentistry. These shiny silver crowns are very strong and durable and are a great option for improving tooth function and strength
Zirconium crowns are tooth-coloured to allow a more natural tooth appearance. They are made from zirconium dioxide, a very durable type of metal that's related to titanium, although it's categorized as a type of ceramic crown.
The Crown Procedure
Placing a dental crown is a routine procedure that generally requires only one visit to the dentist and they rarely need to be repaired or replaced.
Your child's dentist will select the right size crown and tailor it to your child's tooth. After the damaged or decayed portion of the tooth has been removed, the crowns is cemented into place to fully cover the tooth. 
New Patients Always Welcome
We're always happy to welcome new patients to our Richmond Hill dental practice, with or without a referral. 
Request Appointment
Location
Richmond Hill Kids Dentistry and Orthodontics
10 Headdon Gate #1,
Richmond Hill,
ON
L4C 8A2
CA
Phone Number
Hours
Monday:

09:00 am - 06:00 pm

Tuesday:

08:00 am - 06:00 pm

Wednesday:

08:00 am - 05:00 pm

Thursday:

08:00 am - 05:00 pm

Friday:

08:00 am - 02:00 pm

Saturday:

Closed

Sunday:

Closed
Navigation