Nitrous Oxide Sedation for Kids
At Richmond Hill Kids Dentistry and Orthodontics, our pediatric dentists offer nitrous oxide (laughing gas) as a sedation option to help calm children who are nervous about their dental treatments.
Request Appointment
Laughing Gas
Nitrous oxide (laughing gas) is a safe, effective sedation option used to calm a child's fear of a dental visit and enhance effective communication during a dental procedure. It also works well for children whose gag reflex interferes with dental treatment, cleanings or x-rays.
Your child remains fully awake and all natural reflexes remain in tact. They remain capable of responding to a question or request. 
The use of nitrous oxide during a dental appointment, can help your child get the dental care they need to protect their oral health.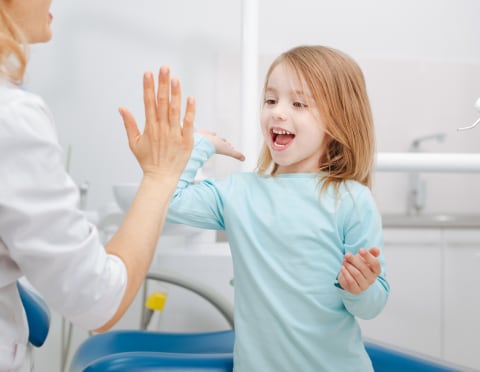 Benefits of Nitrous Oxide for Kids
Has a rapid onset and is reversible
Can be adjusted to various concentrations
Provides some pain relief
Makes the time appear to pass more quickly
Eases anxiety associated with dental treatment
Helps to create a more positive dental experience
How Nitrous Oxide Works
Nitrous oxide is a blend of two gases: oxygen and nitrous oxide.
A small mask is placed over your child's nose and, as they breathe normally, uptake occurs through the lungs.
Your child will smell a faint, sweet aroma and experience a sense of well-being and relaxation. Since it may produce a feeling of giddiness or euphoria, it is often called "laughing gas."
New Patients Always Welcome
We're always happy to welcome new patients to our Richmond Hill dental practice, with or without a referral. 
Request Appointment
Location
Richmond Hill Kids Dentistry and Orthodontics
10 Headdon Gate #1,
Richmond Hill,
ON
L4C 8A2
CA
Phone Number
Hours
Monday:

09:00 am - 06:00 pm

Tuesday:

08:00 am - 06:00 pm

Wednesday:

08:00 am - 05:00 pm

Thursday:

08:00 am - 05:00 pm

Friday:

08:00 am - 02:00 pm

Saturday:

Closed

Sunday:

Closed
Navigation